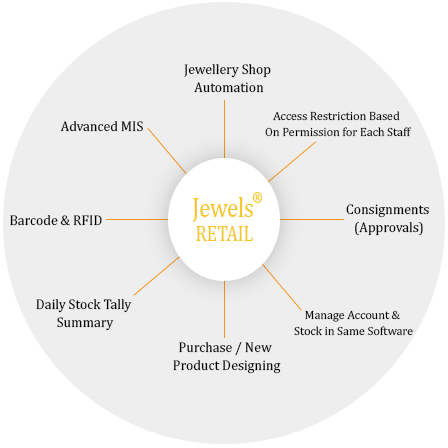 JEWELS®  Jewellery Retail Software specially designed for Jewellery retailers & wholesalers. Jewels® is a complete jewellery accounting software for stock inventory and financial accounts of jewellery business. Like tagging, tag printing with bar code, RFID, sale, purchase, issue, receipt, karigar issue, karigar receipt, making loss, making charges & in stock etc. Jewels® retail software is simple to use and business staff can easily learn it.
Jewels® provide full customization & staff training in Jewellery Retail Software
Features of Jewels® jewellery retail Software
Jewellery Shop Automation
Manage Multiple Showrooms & Outlets
Access Restriction Based On Permission for Each Staff
Monitor Real-Time Sales
Manage Account & Stock in Same Software
Easy Billing Jewellery Retail ERP Software Will Speed Up Billing Process
Purchase / New Product Designing
Sales & Invoicing (POS)
Consignments (Approvals)
Outstanding of Metal & Amount
Daily Stock Tally Summary
Stock Analysis
Barcode & RFID
Ecommerce Connectivity
Advanced MIS
Smoothness in client dealing is the most imperative variables which separates a retailer from other. Jewels® Retail is the main alternative option in type of desktop and in addition online server based application to smoothen business administration of jewellery store with complete solution from manufacturing to the delivery of the products.
Why Jewels® Jewellery retail software is trusted by so many jewelers around the world?
Number one Jewellery Retail Software and it is totally customizable, free demo available.
Jewels® Retail is in industry from last 10+ years, we know the industry and our solution is suitable for small business and large manufacturing units as well.
Jewels® is simple to use, accessed via desktop, complete customization available.
The software is self explanatory but if needed, we provide training as well.
Are you looking for Jewellery Retail Software or erp software for your business ? Contact us for a free quote about Jewellery Retail Software or jewellery erp software for retail and wholesale jewellers.