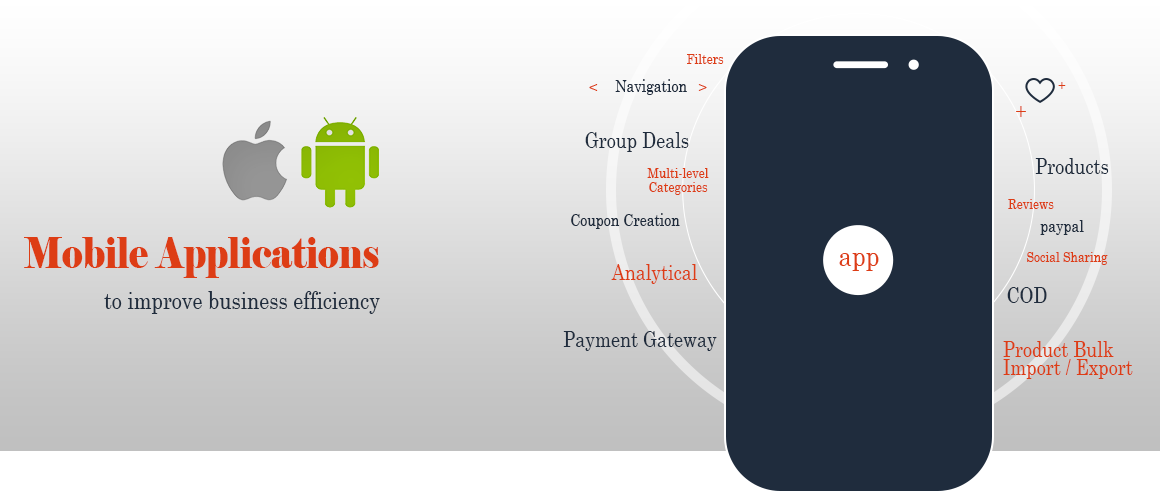 Mobile Application has become essential for every business trend. Also, jewellery mobile application has become very popular in last few years. JOVI Ventures have the expertise in creating business & user-friendly Jewellery Mobile App Development with complete customization as per client requirements.
Being a pioneer in the Jewellery industry, JOVI Ventures is a leading  Jewellery Mobile App Development Company.
A user-friendly mobile app helps you in display your products in front of your customers anywhere.
You should give your customers an app that will keep them coming back for more. Making your app user-friendly will boost your sales.
Following Are The Features Which Should Be Available in Every Jewellery Mobile App Development Services.
Add/Manage Products
Daily Deals, Group Deals, Coupon Creation
Customer login with Social Media
Payment Gateway Integration
Cash on delivery (COD)
Analytical and Graphical Reports
Shop Navigation & Settings
Social Sharing and Reviews
Product Comparison & Filters
Multi-level Categories
Most viewed & Hot products
Wish List
Product Bulk Import / Export
Guest Checkout
Some of the Jewellery Mobile Apps Developed By JOVI Ventures
SILGo – SILgo.in is a one-of-its-kind hallmarked sterling silver jewellery portal that hosts a wide range of earrings, rings, bracelets, necklaces, etc. that are crafted to precision to suit the women of today!
OKAY Diagnostic – Okay Diagnostic Android app is a lightweight app for patients to locate the nearest Okay diagnostic center, book a health package, and download test reports.
JOVIfashion – Discover the latest collection of clothing's, accessories, jewellery, footwear's and get the best online shopping experience with JOVIfashion a cool new app that offers you pocket-friendly prices, updated collection, latest fashion trends and best deals just a click away.
JJS – JJS is the most significant B2B & B2C jewellery trade show of the country. The visitors are going to have a spectacular experience of seeing the latest and the most exceptional collection of Gems & Jewellery products not only from Jaipur City but also from exhibitors worldwide.
Jewels PIS – Jewels® Personal Information System is online software to maintain categorized records of clients, friends, relatives and other business entities with their family members.
Indigo – Indigo Creation has been creating beautiful, unique designs in high-quality sterling silver with Swarovski crystal for the retail trade throughout Europe, Asia, and the US. Our high-quality wholesale jewelry is competitively priced and proven to sell.
Jewels Mini – Jewels® Mobile ERP and inventory management application  is known as Jewels® Mini is designed to solve the challenges that keep Jewelry manufacturers busy. Jewels Info systems mobile technology extends manufacturing ERP functionality beyond the desk to mobile devices located anywhere in the world and process complete information via smart phones, PDAs, and tablets, available whenever and wherever you need it.
How Can Jewellery Mobile App Development Help To Grow Your Businesses?
Large Targeted Audience: Today almost everyone has smartphone, and they are using these phones to do their regular routine work.
Mobile app for Jewellery business allows you to cater the demand of those users who are having smart phones.
Easy Product Showcase: To showcase your product range to worldwide audiences, having a jewellery app will assist you in a significant way. Your entire product range is accessible to your potential buyers with a few clicks.
Low-Cost Marketing & Branding: Jewellery mobile application development for your business, costs you less amount as compared to traditional marketing methods like paper ads, & flax banner. On the other hand, with mobile app gives you provide different offers, deals and promotions with a different call to actions.
More Sales: You cannot stay in your physical store 24*7, but with your jewelry mobile application, virtually you are accessible to clients all round the clock.
How Can Mobile App Help Your Customers?
Easy to Search & Browse Collections: Client can browse through all latest collections in different collections, compare them with other products and finally make a selection.
Super Easy Jewellery Shopping: one can search various products without facing massive crowd at physical stores. The user can check each & every detail of the products.
If you are a jewellery manufacturer, retailer or wholesale dealer and looking for jewellery mobile app developer, we are here to suggest you the best jewellery mobility app developers.
Go For Mobile App Development: Having a customized mobile app for your jewellery business is excellent; both IOS & Android app development is beneficial to get premium and loyal customers.
Are you looking for a jewellery mobile application development services provider? Contact us for a free quote about jewellery mobile app development for your business.