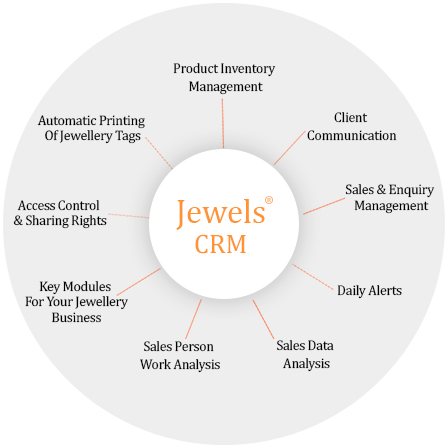 A Jewellery CRM software provides business a convenient & smarter way of centralizing, managing & automating sales process for generating higher sales. Jewels CRM Software is used by jewellery Exporters, Jewellery Manufacturers, and Jewellery Retailers.
Below are the major features of Jewels® Jewellery CRM Software
Product Inventory Management
Client Communication
Sales & Enquiry Management
Daily Alerts
Sales Data Analysis
Sales Person Work Analysis
Key Modules For Your Jewellery Business
Access Control & Sharing Rights
Automatic Printing Of Jewellery Tags
Jewels CRM helps in gaining vital clients information and allows the sales team to build powerful relationships with customers and increase sales. Jewels® helps in getting invaluable insights into your operation.
Why Jewels® Jewellery CRM Software is popular among the jewelers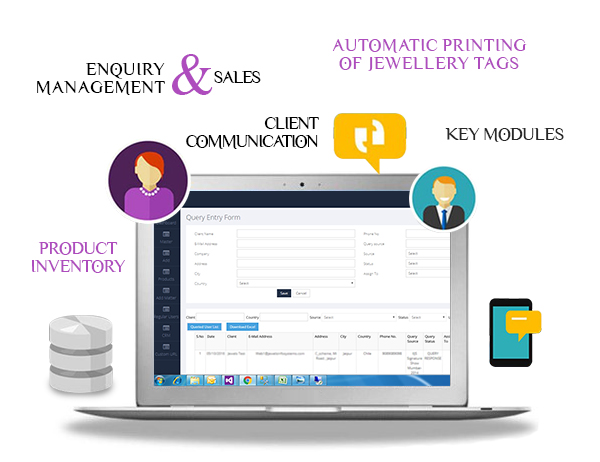 Jewels® CRM is the result of over 20 years of jewelry management software experience, designed specifically for jewellery industry retail and salespeople. This is the reason why jewelers rate our Jewellery CRM Software as one of the top jewelry CRM software.
The critical data is users like Contact Numbers; Email IDs etc. are encrypted in very secure encryption methods to keep confidential information secure. The code is also encrypted to make sure that no one can fidget with it.
Are you looking for Jewellery CRM Software for your business ? Contact us for a free quote about CRM Software for Jewellery.