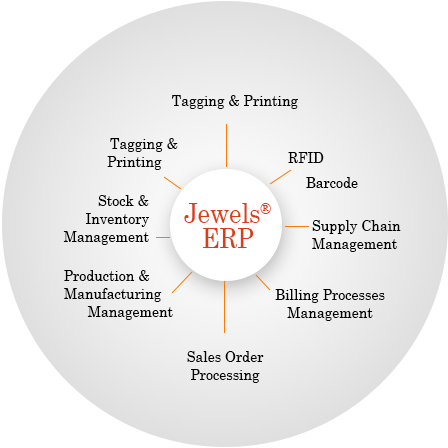 Indian Jewellery industry is one of the largest in the world and its growing at a very rapid rate. Early jewelry industry was run by traditional methods, but now with advancement in technology, allowed it to run smoothly and managed efficiently with ERP for Jewellery.
Jewels® ERP is trusted software and widely used in Manufacturing, Wholesaling & Retailing jewelry industry. It is not easy to manage jewelry business manually due to so many processes involved with extensive data. Jewels® ERP is excellent jewelry management software in these sectors. Jewels ERP software maintains complete transactions & data in real time.
Jewels® ERP For Jewellery Industry Has The Following Major Functions To Help You In Managing Your Business
Stock & Inventory Management
Sales Order Processing
Production & Manufacturing Management
Billing Processes Management
Tagging & Printing
Barcode & RFID software
Supply Chain Management
The jewelry business is different from any other business. Products prices in jewelry industry vary on a daily basis. Hence it is not feasible to maintain the inventory in traditional excel and handwritten data sheets.
In this situation and automated jewelry, ERP software comes very handily to manage the complete process.
Jewels® ERP software for Jewellery industry is one of the best business solutions. It is equally beneficial for all type of business houses, small medium & large. ERP software performs jewelry management solutions and increases business profit and operational efficiency.
Significant Benefits Of Jewels® ERP For Jewellery Industry Are
Managing your jewelry business with so many different processes like Customer engagement, Sales, Accounting, Inventory, Payroll, Asset management, Barcode & Tagging, RFIDs, etc. is hard work. To handle all business activity, you require jewellery ERP software to complete all the work smoothly & efficiently.
Some Other Benefits of Jewels® ERP Software
User-friendly software
Very Easy to retrieve information
Compatible with GST and other business tax
Can be customized as per individual requirements
Smooth & efficient billing processes
Better Stock & Inventory Management
Improved Reporting for different modules
Are you looking for  Jewels® ERP Software to manage your jewellery business? Contact us for a free quote about ERP software for your business.